Pittosporum, Pittosporum tobira
Bush of the family Pittosporaceae
Etymology: from Greek pitta, "resin, or pitch" and sporos, "seed", allusion to the (sticky) resinous substance which coats seeds. "Tobira" is the Japanese name.
Origin: Pittosporum tobira is native to China, South Korea, Japan. Other species are native to New Zealand (Pittosporum crassifolium and Pittosporum eugenioides which is a tree that can attain 13 m tall).
Habitat: sunny position, half-shade, but fears severe colds, rich soils. Adapted well to Mediterranean climate. It resists spray, strong temperatures, drought.
Hardiness: .
Pittosporum tobira: zone 7 (it supports cold until -17 °C or 1 °F). It is met on the coasts of the Mediterranean sea, as well as on the Basque coast.
Pittosporum heterophyllum: zone 8 (it supports cold until -12 °C or 10 °F).
Pittosporum tenuifolium: zone 8 (it supports cold until -12 °C or 10 °F).
Size: 2 - 7 m tall.
Shape: in dome. Exposed to the violence of the coastal winds, it resists and models itself "in flag".
Trunks: multiples.
Bark: smooth, grey.
Leaves: persistent, obovate, acuminate, green-dark, shining. From 5 to 7 cm long.
They are almost sessile (no petiole). The midrib is very marked. They are grouped in whorls.
Flowers: white or yellow lemon, petals, 5 mm in diameter. They are fragrant and bloom from May to June Their heady scent evokes that of orange. Other species have red or purple flowers (Pittosporum crassifolium).
Fruit: capsule globose, gray.
Use: in free form (it forms a big shrub trimmed with leaves in its upper half) or in pruned hedges. Pittosporum indeed supports very well pruning, even strict.
Seeds of Pittosporum crassifolium, it is possible to extract a blue tincture. The plant is rich in saponin.
Pittosporum eugenioides produces a resin, by incision of the bark. The resin is used as a chewing gum.

| | | |
| --- | --- | --- |
| | | |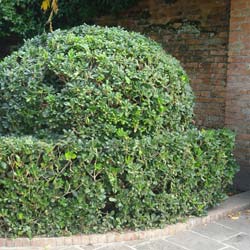 3,95 €
nursery Planfor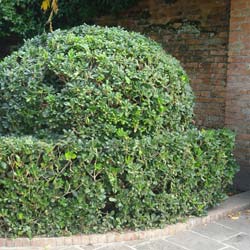 2,95 €
nursery Planfor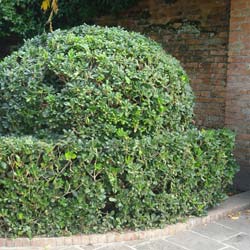 5,50 €
nursery Planfor