Dogwoods of Asia
Dogwood of Japan (Cornus kousa)
Habitat: It appreciates the humid ambiences of Brittany and Normandy.
Fruit: upright, in the form of strawberry (hence the nickname of the shrub: "bear-strawberry").
Dogwood of pagodas or controversial Dogwood (Cornus controversa).
Height:It can attain 20 m which makes a true tree, but most often, in Europe, it does not exceed 7-8 m tall.
Spreading Form. Its branches are graduated.
Habitat: sunny. Deep, not calcareous, well-drained soil.
Deciduous foliage. 10 cm leaves, obovate blade, smooth, light green margin. Fine leaves (finer than those of the American Flowering Dogwood).
Flowers: small cymes of upright white flowers.
There is a variegated, very decorative variety.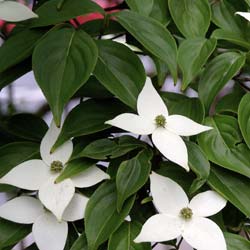 3,95 €
nursery Planfor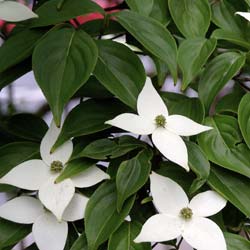 4,50 €
nursery Planfor