Russian Silverberry, Russian-olive, Elaeagnus
shrub of the family Eleagnaceae, close to family Oleaceae

Etymology: its french name "chalef" is the name in Arabic of the "willow" to which they thought that Elaeagnus was related. "Elaia" means olive tree in Greek.
Origin: Europe. There is an American species (Elaeagnus commutata) which blossoms in spring and a Japanese species (E. pungens), with persistent foliage.
Hardiness: zone 7 (it supports cold until -17 °C or 1 °F).
Height: 5 m tall.
Shape: spread.
Deciduous foliage, in general. Leaves with silver lower face.
Flowers in June, tubular, odorous. To some species, flowers appear in autumn.
Fruits: drupes 2-3 mm in diameter.
Use: hedge shrub. Its roots contain nitrogen-fixing bacteria.

Elaeagnus x ebbingei
Shining and tough leaves, dark green on the top, silvery on the underside.
Blossoming of small flowers whitish and fragrant at the beginning of autumn.
It is a nice shrub ideal in pruned hedge.

elaeagnus multiflora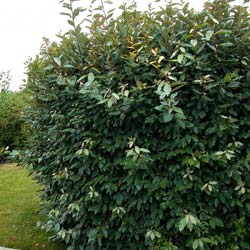 44,95 €
nursery Planfor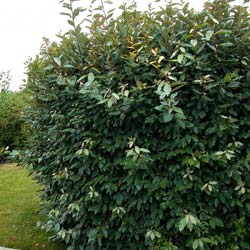 3,00 €
nursery Planfor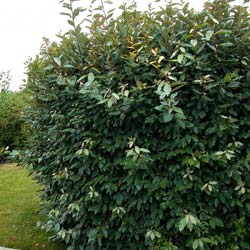 26,00 €
nursery Planfor