Caesalpinia decapetala
tree of the family Fabaceae - subfamily Caesalpinia (Tamarind also)
Origin: Southeast Asia, India.
Habitat: It fears prolonged frost.
Height: 4-7 m tall.

Leaves:composed of leaflets round at the end.
Flowers: pink, variegated purple; 4 petals, obovate to oval.
Fruit: pod of 15-30 cm long; 12 - 15 seeds.
Use: the caesalpinia decapetala is a nice ornamental tree, a few bulky. It can become invasive in the lands where it was introduced, as at Mauritius or in the Polynesia.

---
Bird of paradise, Caesalpinia gilliesii,
Caesalpinia gilliesii is a shrub with compound leaves, very light, which resemble those of Albizia. Leaflets are small and rounded.
Habitat: It appreciates sunny place. It can resist a short frost.
Flowers: pale yellow in spikes, with long, scarlet stamens.
Fruits: green flattened pods.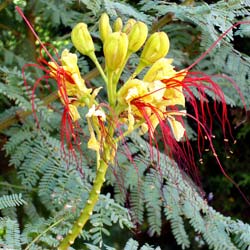 4,75 €
nursery Planfor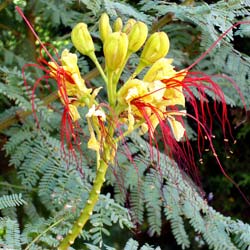 5,50 €
nursery Planfor