Kolkwitzia, Kolkwitzia amabilis
Origin: China.
Habitat: Kolkwitzia prefers a cool and siliceous soil and appreciates sunny position. It is well acclimated in all regions of France.
Height: 3 m
Shape: somewhat entangled fine and flexible stems and bending downward.
Bark: grayish, shedding strap-like.
Deciduous foliage. Opposite and simple leaves, obovate and acuminate, dull green which lights up in autumn with red-purple.
Flowers: 5 petals pale pink, in trumpet, clustered and abundant (the Kolkwitzia is called "flowering"), from June to October.
Use: Kolkwitzia is a beautiful decorative shrub hedge, border or mass. Flowering habit does enjoy gardening. Selecting "Pink Cloud" is the most widespread. The flower is pink.
Reproduction: do not use the seeds which will give plants with little flowers. Kolkwitzia reproduces by separating suckerses or by cutting.
Maintenance: after blossoming, prune Kolkwitzia a bit to give it a bushy shape.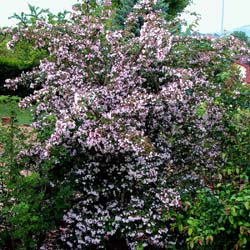 7,95 €
nursery Planfor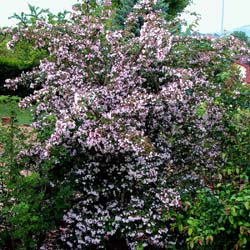 2,95 €
nursery Planfor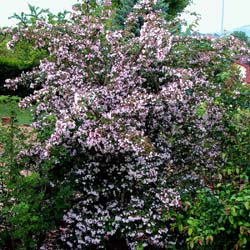 4,50 €
nursery Planfor