Ponytail Palm, Beaucarnea recurvata
semi-succulent tree of the family Agavaceae
Etymology: its other names Foot of elephant or Tree bottle describe the shape swelled at the base of its trunk. Its specific name " Recurvata " alludes to the leaves bent back.
Origin: Mexico.
Habitat: Beaucarnea grows on a soil very drained rather sour, in full sun.
Hardiness: zone 9 (It would not support prolonged frost).
Rate of Growth: slow.
Height: 8 m in its original area.
Shape: upright.
Trunk bottle-shaped swollen at the base, which contains the water supply and food to cope with drought..
Foliage: evergreen. Long leaves and drooping. They develop in tufts at the top of the trunk. Leaves turn yellow then dry out at the end of some years, and new leaves appeared since then.
Flowers: in March in the hot countries, in summer in the tempered countries. Only elderly plants flourish.
Use: Beaucarnea is an ornament shrub in flat.
Advices of planting:
In the purchase, it is imperative to repot Beaucarnea in a very draining substrate of the type cactus, enriched in sand of river, pouzolane, road metals. In flat, put him by the light of, even in hot sun.
Water reasonably in period with growth (one time a month in spring and in summer) by letting the earth dry between two waterings. Reduce watering in winter (n or two waterings during all winter). Clean and humidify the foliage in spring and in summer.
Beaucarnea can be planted in the South of France in outside.
Diseases:
The leaves may turn yellow, brown, twist or become covered with a gray veil: it is an attack of red spider. At the first symptoms, clean the plant simply by passing it under water or wipe with a sponge and mild soap. Under attack more important, use an insecticide against mites. White marks appear: they are due to mealy bugs. Remove them with a swab of rubbing alcohol or denatured alcohol. If the attack persists, use an insecticide.
| | | |
| --- | --- | --- |
| | | |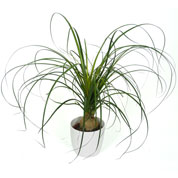 22,95 €
nursery Planfor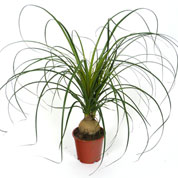 19,95 €
nursery Planfor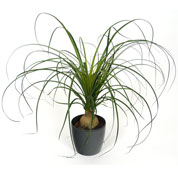 22,95 €
nursery Planfor